aPHRTM Virtual Certification Exam Prep Course
(COMING SOON!)
Date: COMING SOON!
Time: 6:30pm – 8:30pm Eastern Time Zone
Course Location: Online
Class Type: Virtual Instructor-Led Course
Registration Deadline: TBD
The aPHRTM  8-week prep course covers the general HR knowledge, principles, and practices that make-up the aPHRTM exam.
aPHR Exam Content Outline

Eligibility requirements for taking the exam from HRCI®, aPHR®:
A minimum of a high school diploma or global equivalent. Prior HR experience is not required since this is a knowledge-based credential.

Who should enroll in this course?
New college graduates and college students pursuing a degree in Human Resources
Individuals in HR support or HR specialized roles who want to expand their knowledge and obtain credentials to move their careers forward
Professionals seeking a career transition or steppingstone into the HR profession
Military individuals who have related skills used in the military and seek to transition into the civilian HR field
HR service providers who desire to increase their HR knowledge
What We Will Cover?
HR Operations
Recruitment and Selection
Compensation and Benefits
Human Resource Development and Retention
Employee Relations
Health, Safety, and Security
Material
Print & Online Edition Includes:
400+ pages of content covering the six functional areas tested on the exam; includes both the Print and Online Edition
300+ HR Flash Cards; provided in both print and electronic formats
14 online practice exams with answers; feedback and page references
Audio Reader as part of the Online Books; internet connection required
Online Guide for Successful Exam Preparation, including study and test-taking tips
Index and Key Terms in Print Edition; search feature in Online Edition
Class materials included.
A minimum of 7 participants are needed to hold the class. If the class does not make the minimum requirement all prior registrants will receive a refund less the cost of any materials received.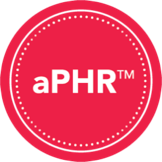 Lanita Gaines-Hargett, PHR
All courses are subject to availability
When you click "Register" you will be redirected to our secure online payment portal to complete your billing information. Your registration is not complete without payment.
Once your payment has processed and approved you will receive a receipt and confirmation email.
All course sessions have a limited capacity and will be closed for enrollment once they are full. Therefore, all course sessions are subject to availability.