SPHR® Certification Exam Prep Course - SPRING & FALL 2023
SPRING 2023 SESSION
Dates: April 13, 2023 – June 29, 2023
Time: 6:30pm – 9:30pm Eastern Time Zone
Class Type: Online Live Instructor-Led Course
Registration Deadline: March 30, 2023
FALL 2023 SESSION
Dates: September 7, 2023 – November 23, 2023
Time: 6:30pm – 9:30pm Eastern Time Zone
Class Type: Online Live Instructor-Led Course
Registration Deadline: August 29, 2023
The SPHR® 12-week prep course covers the general HR knowledge, principles, and practices that make-up the SPHR® exam and concentrates on strategic planning. This certification is for individuals who are responsible for planning and developing HR strategies for an Organization or HR Department. SPHR Exam Content Outline
Certification Eligibility
For the SPHR® certification, you must meet one of the following conditions for education and experience:
Minimum of four years of experience in a professional-level HR position + a Master's degree or higher
Minimum of five years of experience in a professional-level HR position + a Bachelor's degree OR
Minimum of seven years of experience in a professional-level HR position + a high school diploma
The HR certification validates your expertise – HRCI certification provides you with competency-based, professionally relevant credentials highly valued in HR and business communities.
What We Will Cover?
Business Management/Leadership and Strategy
Talent Planning and Acquisition
Learning and Development
Total Rewards
Employee and Labor Relations/Employee Engagement
Material
Print & Online Edition Includes:
900+ pages of content covering the functional areas tested on the exam; includes both the Print and Online Edition
600+ HR Flash Cards; provided in both print and electronic formats
800+ practice questions with answers, feedback, and page references
Audio Reader as part of the Online Books; internet connection required
Online Guide for Successful Exam Preparation, including study and test-taking tips
Index and Key Terms in Print Edition; search feature in Online Edition
Class materials included.
A minimum of 10 participants are needed to hold the class. If the class does not make the minimum requirement all prior registrants will receive a full refund.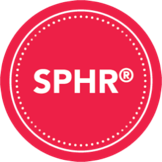 Robin Jones, SPHR
All courses are subject to availability
When you click "Register" you will be redirected to our secure online payment portal to complete your billing information. Your registration is not complete without payment.
Once your payment has processed and approved you will receive a receipt and confirmation email.
All course sessions have a limited capacity and will be closed for enrollment once they are full. Therefore, all course sessions are subject to availability.